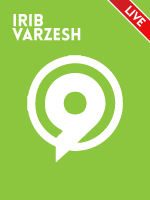 IRIB Varzesh (Shabake Varzesh)
IRIB Varzesh is a national sports TV channel in Iran which was launched in July 18, 2012 and is the fifth Iranian television channel to broadcast in digital mode and the second one to broadcast in High Definition quality. This channel is currently available using Set-top box devices.
Varzesh Live
Varzesh televises two Persian Gulf Pro League matches per week and occasionally televises important Azadegan League matches. The channel also shows Olympic and World Cup documentaries and educational sports videos.
Shabake Varzesh Live
Varzesh also airs several popular Iranian Wrestling shows, including: 120 Football which focuses on European Football, Meydan which focuses on Iranian sports and Lezate Football which mainly televises European and International football matches. Varzesh also other sports Volleyball tournament in the world and Iran.
LIVE – Watch IRIB Varzesh / Shabaka varnish 3